#honobono @irc.aniverse.com
Old News Archive 018: Year 2021
See the front page for the current status.
---
 June 16, 2021 We released Hime-chan's Ribbon 41v2 and 42. (See below)
May 30, 2021
HCR42 RC1: QCed. There will be RC2 in a few days. Release eta: 1–2 weeks.
BoDv2: The Dutch translator is now actively working on it. Release eta: June.
We have restarted working on the new project Yōkoso Yōko (YY).
May 18, 2021
We have 4 active projects: HCR, Gyu, BoDv2, and GfW Batch. Each is being slow due to different reasons. HCR - no fixed editors (both the original encoder and editor had to leave due to real life reasons). Gyu - its encoder is busy. BoDv2 - non-English translators are not very quick, although things are moving positively. GfW Batch - re-encoding many files, converting hard-subs to soft-subs, is surely time-consuming.
That being said, we did complete several projects, like Fushigiboshi no Futagohime (1st season), Floral Magician Mary Bell, Minky Momo: The Bridge Over Dreams (v1), The Star of Cottonland, Tokyo Mew Mew, and recently, Goldfish Warning! (v1). It's just that we're not very fast.
The current status and planned new projects are:
HCR42: Typeset and test-encoded on May 13, 2021. Now being QCed. Release ETA: hopefully in June. We had released HCR 1–38 as xvid.AVI and 39–41 as x264.MP4, both being hard-subbed. Starting from Episode 42, however, our Hime-chan no Ribon releases will be in MKV, fully soft-subbed. We now have a new possible member, who might work as a dedicated HCR QCer (or even as the editor). If things go well, our HCR releases will become a little faster.
Gyu09: RC2 was encoded today! It may or may not be releasable. We're going to have to QC it. ETA: asap.
BoD v2: English subs are ready. The file is basically ready to release, except multisubbing is not as quick as we want. Italian subs were QCed, now being updated. New Dutch subs (v2) are also planned. Japanese subs (Kanji Kana) are ready. We may even throw in a Kanji-Kana-with-Furigana version too (not sure who wants it though).
GfW 2nd batch (Eps. 20–39 v2): About 10% ready. Release ETA: summer?
YY (Yōkoso Yōko): This is one of the new projects. Now that we completed GfW (Goldfish Warning!), we can start something new. This project has a dedicated translator-editor (who doesn't have to translate other shows), so at least in theory YY won't be affected by the slowness of the other projects.
Shōnen Santa no Daibōken: This is another possible new project, though still iffy. The show will have its own dedicated translator.

 May 12, 2021 We released Goldfish Warning! 40–54 [v2]. (More info)
May 10, 2021
GfW batch 40–54 [v2]: should be released shortly, maybe this week.
BoD v2: Perhaps the next release after the GfW batch.
HCR42: Typesetting… 80%. To be test-encoded soon, maybe this week.
Gyu09: Ready to encode; the encoder is busy. Still we may be about to QC it :)
A few other projects in the background: among others, we'll start Yōkoso Yōko soon!
May 1, 2021
BoD v2: English version is releasable; waiting for additional non-English subs (dut, ita).
GfW batch: Eps. 40–Last to be QCed.
HCR42: Edited. To time and typeset.
Gyu09: Ready to encode; the encoder is busy.
A few other projects in the background…
March 30, 2021
BoD v2: English subs are ready (RC4).
GfW batch: Eps. 41–Last are ready. We may release 40–Last as one batch, when 40v2 is ready.
February 21, 2021
Gyu09: The script has been updated (RC2). To encode.
BoD v2: English subs are looking good. We'll multisub it, adding Dutch, and probably Italian subs. Finnish might be added too, though iffy.
GfW movie: We might sub it.
January 15, 2021
BoD v2 (The Bridge over Dreams): RC3 was test-encoded, near-final. Originally this v2 was going to be just a quick fix (of a few minor mistranslations). After all, however, we're almost fully revising the script, more than 100 lines having been changed so that, hopefully, they may sound more natural and vivid, not just accurate.
The "GfW Batch" project: the main purpose is to redo the old episodes (esp. Eps. 1–34, hardsubbed, 175 MiB, Xvid AVI) and create softsubbed, higher-quality MKVs. This may be easier than expected, though rather time-consuming. Currently, Eps. 43–53 are ready (of which 43–47 and 50 are v2s), and now doing 42. In short: Finished 20% (11 out of 54). No concrete ETA.
A new possible project we're planning, along with Idol Angel Yōkoso Yōko, is Shōnen Santa no Daibōken! (lit. "Boy Santa's Great Adventure!"), a 24-episode TV anime show from 1996, based on The Life and Adventures of Santa Claus by Lyman Frank Baum. Since we already have many things to do, starting yet another new project might be questionable. That said, we have a new translator who wants to do this show, and so we'll see what happens…
---
June 16, 2019 — OUT: Hime-chan's Ribbon 42
UFO Camp!
NOTE (File Format Change): Starting from this episode, we are now fully softsubbing HCR as MKV. OP/ED, especially OP, may be too CPU-intensive for old computers (you can just skip it). Episode 41v2 was also released in the same format.
So in this episode, Hime-chan, Daichi, and others visit the mountainous town of Okutama.


A scenery of Okutama (Left), and a scene in HCR42.

A map of Western Tokyo and some surrounding areas (Click to enlarge):
A = Kunitachi City: Hime-chan's hometown, Kazetachi, is based on this.
B = Okutama Town / C = Chichibu City: appearing in Initial D, though unrelated here.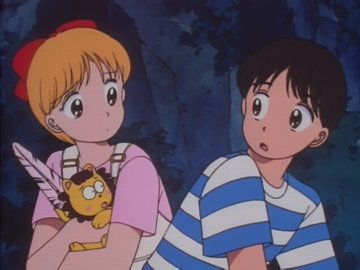 (Click to enlarge)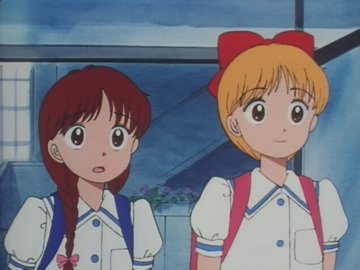 (Click to enlarge)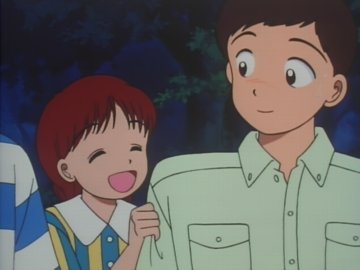 (Click to enlarge)
More info about [ This release | Hime-chan's Ribbon ]
---
June 16, 2019 — OUT: Hime-chan's Ribbon 41v2
Little Lovers
This is the v2 release of Episode 41: a fully softsubbed MKV, as opposed to v1 (hardsubbed MP4). For more info about the format change, see Episode 42.
More info about [ This release | Hime-chan's Ribbon ]
---
May 12, 2021 — OUT: Goldfish Warning! 40–54 [v2]
The first batch (1 of 3) for Goldfish Warning! v2s
This is a set of 15 files — Episodes 40 through 54 (last), of which ten files are new (a few mistranslations fixed, and generally, slightly tweaked and improved), while five episodes (48, 49, 51, 52, 53v2) remain unchanged, as they're already good enough.
These eight files are higher-quality (256 MiB/ep) than the v1s (180 MiB/ep): 40v2, 41v2, 42v2, 43v2, 44v2, 45v2, 46v2, 47v2.
This is supposed to be the first batch for the softsub version of Goldfish Warning!. The second batch (ETA: a few months?) will be 20v2–39v2, the third batch (no ETA) will be 1v2–19v2. Batches for Goldfish Warning! v2 are MKV-only; AVI (hardsub) versions are not planned, except that the AVI version of 53v2 is available.
More info about [ This release | Goldfish Warning! ]
---
---
---
News Archive
---
---
If you have any questions (FAQ), comments,
or if you're interested in joining us fansubbing together,
feel free to visit us or email us at the following address. Thank you!


Also, you can leave comments on [AniDB], [Nyaa], or [BakaBT]
though we may not notice them immediately.