#honobono @irc.aniverse.com
Old News Archive 013: Year 2015
January 4, 2015: We released Fushigiboshi no Futagohime Gyu!, Special (See below).
January 4, 2015 — OUT: Fushigiboshi no Futagohime Gyu! Special
Gururi ☆ Fushigiboshi Meguri
(Tour ☆ Around the Mysterious Star)
This is a stand-alone episode between the first and second seasons, and our release is in the MKV (Matroska) format, soft-subbed in English and German. It has two English sub tracks, called "Regular" and "Full". In this episode, often Fine, Rein, and Poomo are talking in the foreground while there are some background lines (which are not very audible). In "Full", both are subtitled; in "Regular" (which is the default), the background lines are not subtitled unless clearly audible.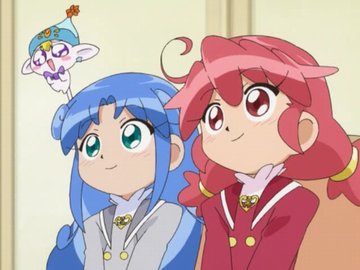 (Click to enlarge)
---
News Archive
---
---
If you have any questions (FAQ), comments,
or if you're interested in joining us fansubbing together,
feel free to visit us or email us at the following address. Thank you!


(PGP Public Key)
[Fingerprint: 821C DADD 2C25 C86C 1754  6412 DD33 0238 68B5 8C64]
Also, you can leave comments on [AniDB], [Nyaa], or [BakaBT]
though we may not notice them immediately.
 Our website is Tor-friendly & JavaScript-free.