#honobono  
irc.aniverse.com
Warm and Fuzzy Anime, by the People Who Love Them Most
---
Status as of 2019-11-20
Gyu Finally Ready
Gyu06
Gyu07
GfW48
Gyu08
HCR42
Gyu09
Translate
✔
✔
✔
✔
✔
60%
Edit
✔
✔
✔
✔
75%
Time
✔
✔
✔
✔
Typeset
✔
✔
✔
✔
Encode (RC1)
-
✔
✔
✔
Quality Check
-
✔
✔
30%
Update Script
v2
RC5
90%
Re-encode
✔
✔
Recheck
Prepping
Release
---
November 17, 2019: We are understaffed. I don't think there are many people reading this page, but anyway, if you are a fan of at least one of the three anime we're subbing (Goldfish Warning! / Hime-chan's Ribbon / Fushigiboshi no Futagohime Gyu!), and if you think you can edit (or quality-check), please join us (even if temporarily)! You don't need much free time (because we are slow). You can quit any time you like.
An editor is a person who edits drafts (translated from Japanese) so that the scripts will become better (more natural) as English. One episode has like 300 lines (Example), of which maybe 200–250 lines are already good when you get a draft. The job is purely text editing. You don't have to translate, time, or typeset anything. Basically, anyone can do this as long as they speak English fluently and are a decent writer.
A quality-checker is a person who watches a test-encoded video and spots possible problems (such as typos, bad grammar, awkward expressions). Anyone can do this as long as they can read English subtitles.
If you think you might be able to help us, please PLEASE do feel free to contact us (honobono.fansubs@gmail.com). In the past we introduced hidden gems like The Star of Cottonland or Minky Momo - The Bridge over Dreams and several other series (perhaps about 200 episodes in total), but now, many of the old members are gone. Our ex-chief editor left the team after she had finished the first season of FH, so our editinig department is now not very powerful. Not only that, the translator who wanted to do the second season had gone MIA. Ouch. One of our three encoders is now inactive; our encoding power has diminished since we released HCR40. The remaining members are also more or less busy with real life and other things. That is why we're understaffed.
---
Current Status
- Video -
(RC=Release Candidate: Usually RC3 or 4=final)
2019-02-16 Gyu06 Released
2019-05-04 GfW47 Released
2019-06-24 HCR41 Released
2019-09-08 GfW48 RC1
2019-09-18 Gyu08 RC1
2019-09-25 GfW48 RC1.1
2019-10-17 GfW48 RC1.2
2019-11-20 Gyu06v2
2019-11-20 Gyu07 RC5

- Script -
2017-07-24 Gyu08 Translated
2017-08-30 Gyu08 Edited
2017-09-17 Gyu08 Timed
2017-11-05 Gyu08 New raw prepared
2019-07-12 GfW48 Translated
2019-07-31 Gyu08 Typeset RC1
2019-08-01 HCR42 Translated
2019-09-05 GfW48 Edited
2019-09-08 GfW48 Typeset
2019-09-25 GfW48 RC1.1
2019-10-03 HCR42 Editing 75%
2019-10-10 Gyu06v2
2019-10-10 Gyu07 RC5
2019-10-17 GfW48 RC1.2
2019-11-07 Gyu09 Translating 60%
2019-11-17 GfW48 RC2 90%

Current Projects

Goldfish Warning!
(1991–92)

Hime-chan's Ribbon
(1992–93)

Fushigiboshi no ☆
Futagohime Gyu!
(2006–2007)
Links
Anime-Avatar
Download
Torrent Files
[EdK, Nyaa, TT]
Old Releases
2009-01-10 FH25 Released
2009-01-22 GfW25 Released
2009-01-26 FH26 Released
2009-02-08 FH27 Released
2009-02-13 MB1v2 Released
2009-03-16 FH28 Released
2009-05-21 FH29 Released
2009-05-23 HCR19 Released
2009-05-27 GfW26 Released
2009-07-10 FH30 Released
2009-08-04 HCR20 Released
2009-09-04 FH31 Released
2009-09-08 FH32 Released
2009-11-25 GfW27 Released
2009-12-17 FH33 Released
2010-02-02 FH34 Released
2010-02-13 HCR21 Released
2010-02-13 FH35 Released
2010-04-18 FH36 Released
2010-04-22 GfW28 Released
2010-05-17 FH37 Released
2010-06-01 FH38 Released
2010-07-20 HCR22 Released
2010-07-30 GfW29 Released
2010-08-19 FH39 Released
2010-09-01 GfW30 Released
2010-09-30 GfW31 Released
2010-10-17 FH40 Released
2010-11-19 GfW32 Released
2010-12-07 FH41 Released
2010-12-28 GfW33 Released
2011-01-12 FH42 Released
2011-02-16 GfW34 Released
2011-03-31 FH43 Released
2011-04-15 FH44 Released
2011-04-15 FH45 Released
2011-05-01 FH46 Released
2011-05-22 GfW35 Released
2011-06-19 FH47 Released
2011-06-29 HCR23 Released
2011-07-09 GfW36 Released
2011-07-23 FH48 Released
2011-08-08 FH49 Released
2011-10-30 FH50 Released
2011-10-30 FH51 Released
2011-12-02 GfW37 Released
2011-12-06 FH1v2 Released
2011-12-06 FH2v2 Released
2011-12-06 FH17v2 Released
2011-12-06 FH37v2 Released
2011-12-06 FH38v2 Released
2011-12-06 FH39v2 Released
2011-12-06 FH40v2 Released
2011-12-06 FH41v2 Released
2011-12-19 HCR24 Released
2012-01-13 HCR25 Released
2012-01-24 HCR26 Released
2012-02-05 GfW38 Released
2012-03-04 HCR27 Released
2012-03-05 HCR28 Released
2012-03-24 GfW39 Released
2012-03-25 GfW40 Released
2012-04-19 GfW41 Released
2012-05-08 HCR29 Released
2012-06-20 HCR30 Released
2012-07-15 GfW42 Released
2012-08-26 HCR31 Released
2012-09-04 GfW43 Released
2012-12-09 HCR32 Released
2013-03-17 HCR33 Released
2013-03-23 GfW44 Released
2013-06-06 HCR34 Released
2013-07-01 GfW45 Released
2013-07-25 HCR35 Released
2013-12-20 HCR36 Released
2014-03-21 GfW46 Released
2014-05-13 HCR37 Released
2015-01-04 Gyu! SP Released
2016-01-26 HCR38 Released
2016-03-21 HCR39 Released
2016-04-01 Gyu01 Released
2016-12-12 Gyu02 Released
2017-02-25 Gyu03 Released
2017-05-10 HCR40 Released
2017-06-13 Gyu04 Released
2017-09-09 Gyu05 Released

---
October 7, 2019: Although Gyu07 is practically ready to release, we will probably release Gyu06v2 first (before Gyu07); perhaps a double release of 6v2 + 7. The "potentially bigger problem" (see below) turned out to be a really important issue, not only related to some of our files, but related to media players/tools in general, and for example MPC-BE, MPC-HC, LAV Filters are to be updated (fixed) soon based on our discovery. While we are sorry about the delay, many programs are affected by the issue we noticed, and thus in a way, we are indirectly helping many subbers and anime fans, not just lazily delaying the release.
October 3, 2019: The current queue status. (1) Gyu07 = ready to release (Gyu06v2 TBD); to be released soon (possibly today or tomorrow). (2) GfW48 = encoded; waiting for QC; once QCed, the rest should be fast. (3) Gyu08 = encoded; to be QCed. (4) HCR42 = edited 75%; still to be edited, timed, typeset, and encoded. (5) Gyu09 = translated 20%. (6) GfW49 = to be translated. (7) HCR43 = to be prepared for editing.
September 29, 2019: Gyu07 was re-encoded yesterday to fix some minor problems, but then we have noticed a potentially bigger problem. We might even have to do v2 for Gyu06… (though Gyu05 was ok)
June 24, 2019 (18:54 UTC): We have released Hime-chan's Ribbon 41. The bridge depicted in this episode may be based on a real place (see a separate page for more info).
May 4, 2019 (20:20 UTC): We have released Goldfish Warning! 47. This episode has a few interesting aspects. You can read Translator's Notes after you watch it!

February 16, 2019: We have released Fushigiboshi no ☆ Futagohime Gyu! 06.
---
Nobrmbrt 2_?, 2019 — To be OUT: Fushigiboshi no ☆ Futagohime Gyu! 07
Mischievous Angels ☆ Commotion in the Town?!
This episode is somewhat like Let's Make Sweets ☆ Princess Party (Episode 10 of the First Season).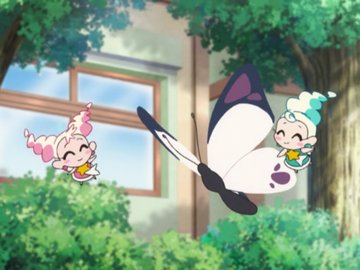 (Click to enlarge)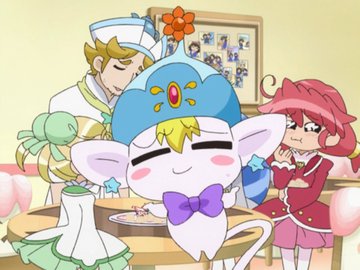 (Click to enlarge)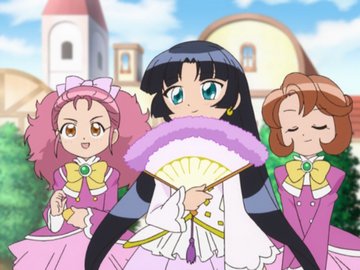 (Click to enlarge)
More info about [ This release | Fushigiboshi no Futagohime ]
---
June 24, 2019 — OUT: Hime-chan's Ribbon 41
Little Lovers
Little Lovers is a slice-of-life episode. One of its main topics is a realistic problem for little children, but is rarely depicted in anime shows, perhaps because it's not very exciting nor fantastic (and so not marketable). When the seiyū for Yumeko voices Fake Yumeko (who is actually Himeko), the way she speaks is subtly different (Himeko-ish) — nicely nuanced! Also interestingly, Shintaro and Ichiko ("Icchan") are voiced by the same person.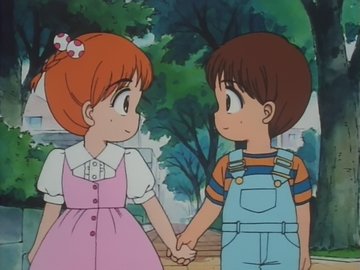 Yumeko & Shintaro (Click to enlarge)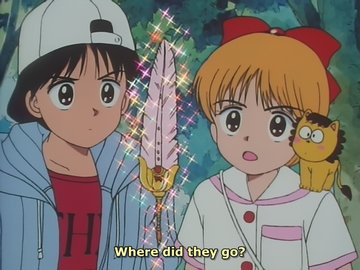 (Click to enlarge)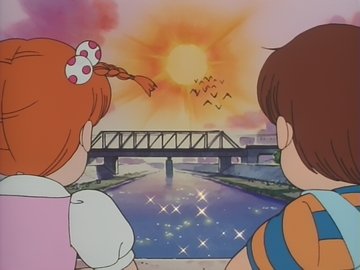 The Tama River? (Click to enlarge)
More info: The Tama River in Hime-chan's Ribbon Ep. 41
More info about [ This release | Hime-chan's Ribbon ]
---
May 4, 2019 — OUT: Goldfish Warning! 47
Play Even When It Snows a Lot /
Give Chii-chan a Nightmare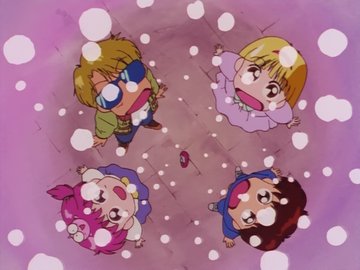 (Click to enlarge)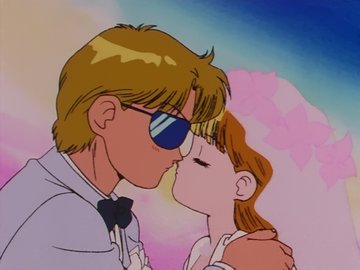 (Click to enlarge)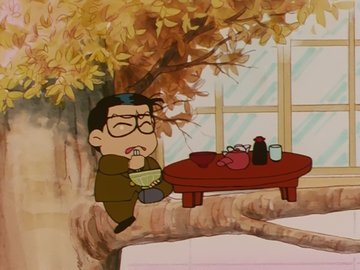 (Click to enlarge)
Trivia & Cultural Notes — Translator's Notes for this episode (GfW47) about various things, including: Animation blooper; Kamakura (snow hut); A hidden message on the stained glass; Nattō; Similarity found in Revolutionary Girl Utena, Ep. 16.
More info about [ This release | Goldfish Warning! ]
---
February 16, 2019 — OUT: Fushigiboshi no ☆ Futagohime Gyu! 06
Club Activity ☆ Fine's Great Fart Experiment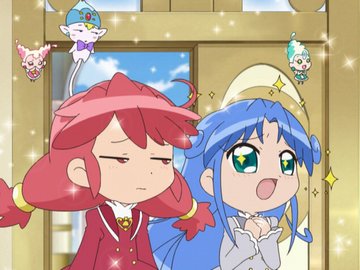 (Click to enlarge)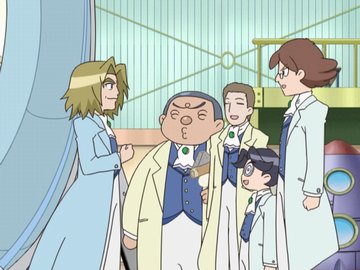 (Click to enlarge)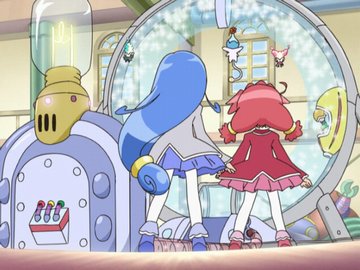 (Click to enlarge)
---
---
In-depth Articles / Random Notes
Annexes
---
Completed/Finished/Dropped Projects
---
News Archive
---
---
If you have any questions, comments,
or if you're interested in joining us fansubbing together,
feel free to email us at the following address. Thank you!


Also, you can leave comments on [AniDB], [Nyaa], or [BakaBT]
though we may not notice them immediately.